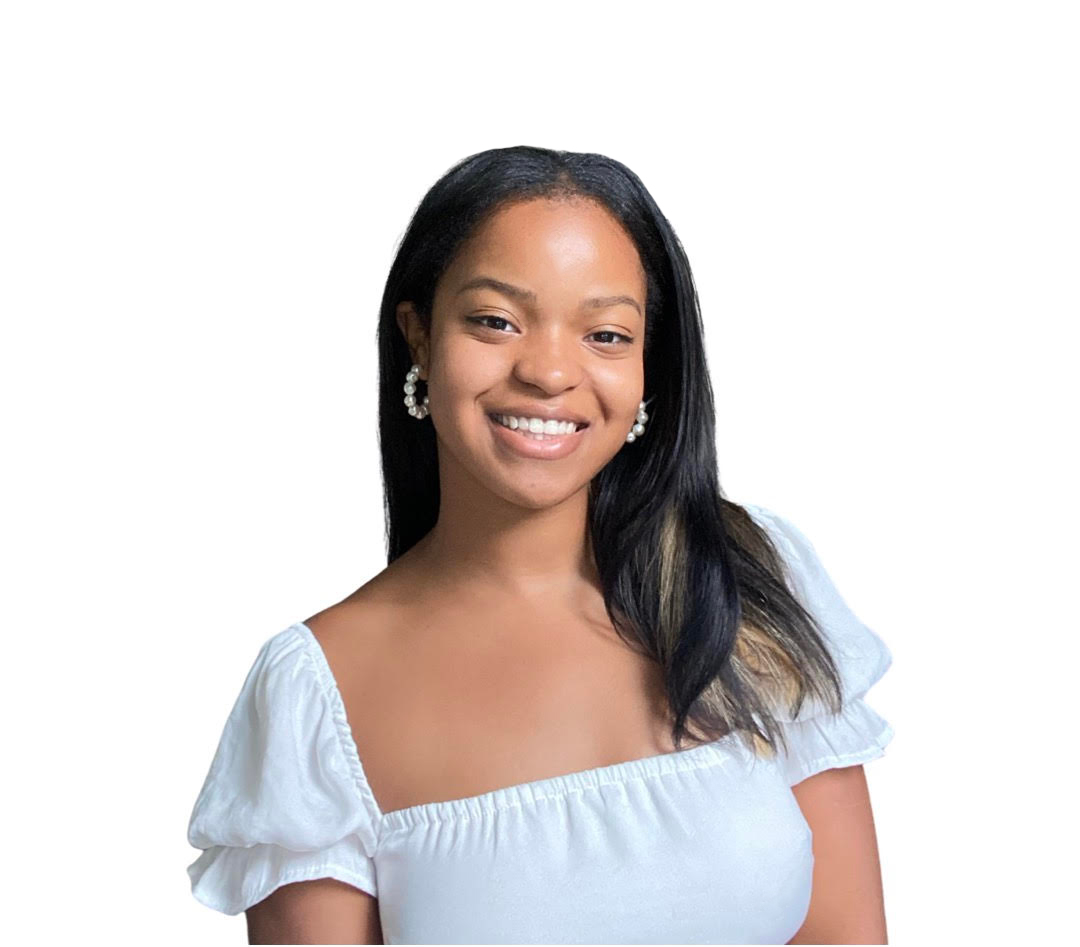 Lyric Alicea
UX/UI designer
Website Redesign Challenge
Redesigning Amazon's Desktop Experience
Project Overview
The Challenge
Pick a target user whom you don't feel is served well by Amazon.com. How would you redesign Amazon.com to appeal to that user type? Would you redesign the entire website or only specific web pages on the website?
My Role
I independently created this solo project for myself. I developed the entire life cycle of the design process, from the research to the visual redesign unassisted.
Tools: Sketch and Miro
Project Duration: 1 Week
Redesign Decisions
Choosing a User Type
(Who and Why)
I chose to focus on Gen Z American Teenagers (13-17 y.o) as my target user type because I felt that Amazon was not doing the best job of catering their website to this demographic, who will later become their biggest consumers on the website since they will soon outnumber millennials.
Born between 1997-2015, Gen Z is the first truly digital generation. Technology is an integral part of Gen Z's lifestyle. They do not consider their interaction with technology to be an addiction. They see it as an extension of their everyday life. They are all well connected and have grown up with online games, smartphones, and computers from the time they were born. They also have a different perspective than millennials and, learning to communicate and connect with them will soon be vital for Amazon's future.
Now, although Amazon is good at connecting with 18-24 y.o., Gen Zers who are currently young adults/in college, I still believe that they could do a better job on connecting with the younger half of the generation who are teenagers and still have insight to offer the company.
Below I have listed a couple of reasons as to why I chose to focus on this user type:
They are teenagers with extra spending money who either have an allowance, job, or freedom with their parent's money.

They are developing the maturity to shop by themselves (i.e., Developing a little independence from their parents).

Their the largest media-consuming audience and, their set surpass millennials in size and spending power.

They have an unhealthy attachment to their phones, other electronic devices, which causes them to be on the internet a lot.

Instant gratification is a high priority.

They have digital trust and an affinity to Amazon.
Redesigning Aspects of the Website
While looking at Amazon's website, I realized that my efforts would be more impactful if I focus on only redesigning certain web pages on the website. Rather than the entire website. Specifically, the areas of the website that my chosen user type would frequent the most. To determine what pages those would be, I thought it would be best to begin the discovery phase of the challenge first and then later, based on my findings, decide which web pages would be best to redesign.
The Process
I determined my process based on many different factors. Such as the project goals, the complexity of the problem, time constraints, business needs, etc. Here I'll describe my process for solving this problem.

Understanding Amazon's Approach Towards Targeting Consumers
Amazon targets consumers by using their market segmentation tactic, which they break down into five sections:
Demographic Segmentation- categorization of the target market based on specific variables like age, education, and gender. Refers to statistical data about a group of people.
Psychographic Segmentation- categorizes audiences and customers by factors that relate to their personalities and characteristics. Specifically personality traits, values, attitudes, interests, lifestyles, etc.
Behavioral Segmentation- focuses on how the consumer acts. Including purchasing habits, spending habits, user status, brand interactions, etc.
Situational Segmentation- is a collection of tangent jobs that someone wants to get done. A series of events that touch each other and help form a situational segment.
Geographical Segmentation- categorizes customers based on geographic borders. ZIP code, city, country, climate, urban or rural, etc.
Knowing this information was helpful and, I considered this method of market segmentation when I created my user persona.
Current Ways Amazon Specifically Targets Gen Z
Amazon currently targets Gen Z in these different ways:
Convenient product obtainment. (Quick and Easy)

Providing an assortment of options for similar products.

Gives consumers the ability to leave detailed reviews and hear about other consumers experiences with the product. Therefore, allowing people to feel more included. While also allowing them to develop confidence/certainty in the product they chose to purchase.

Branching out into other areas besides just e-commerce.

Amazon Household- Teens (13-17 y.o) can have their own Amazon login to shop or stream content while still keeping their parents informed. They can link any card to their account, but adults have to approve the card, as well as any charges applied to the card. Allows teens to shop by themselves but still with parental supervision.

Prime Student Deals- However, this deal is only available to Gen Z college or university students.
Competitor Research
Amazon's top competitors currently for e-commerce retailing are Walmart, Alibaba/AliExpress, and eBay. They all use methods of targeting Gen Z that Amazon is not currently implementing or could do a better job of implementing more frequently.

Walmart
Promotes its products on social media applications by using ads and sponsorships.

Offers products that are currently in trend. Examples would be sustainable/eco-friendly items, LED lights, and popular beauty products.

Politically stays up to date.

Invests in convenience by providing more services than just solely e-commerce services.
Alibaba/AliExpress
These sister companies focused on experiences instead of sales.

Promote consumer-creator relationships on the platform by promoting the creators. Consumers can then have a better idea of whom they are buying from and why they should support them.

Partners with influencers.

Promotes consumers themselves on the website. Which makes consumers feel more involved.

Focuses on cultivating Gen Z talents (the creators of the products) on their platform by supporting creativity and feedback into sales.
eBay
Targets Gen Z on social media applications by using ads and sponsorships that showcase their assortment of high-quality used goods.

Capitalizes on Gen Z's current wants. Especially right now with old, thrifted items coming back into style.

Creates campaigns that show flexibility in whom they can market too.

Redesigned their website layout so that everything is not so cluttered.
User Research
Gen Z is overall a demanding generation, but not in the way you might think.
Expectations
Gen Z expects seamless interaction with brands across the entire digital integrated enterprise.

They expect brands to be highly responsive to their needs.

Gen Z consumers expect accurate inventory information, good value for their money, and a wide assortment of choices when shopping.

Clarity and direct communication. Due to their short attention spans.

A cohesive visual brand identity that gives off a sense of familiarity, comfort, and stability.
Wants
They want to actively share their opinions, collaborate, and co-create with brands.

They want brands to be transparent, trustworthy, authentic, and relevant.

To create healthy relationships with creators.

They want personalized experiences on every platform they visit.

Gen Z consumers appreciate and want innovation, but only if it can remove friction and empower them to engage with the brand on their terms.
Values
Technology that provides convenience.

Consistent delivery of retail essentials.

Individualized/customizable shopping experiences.

Brand Transparency

Easy engagement with creators/brands.

An assortment of options.

Supporting brands that align with their values. Gen Z'ers are more likely to promote content that reflects their values and identity.

Diversity and Inclusion

Efficiency
Identifying the Solutions to Amazon's Current Problems
The Problems
Amazon's interface is too cluttered and needs to be more customizable.

There is a visual lack of diversity and inclusion.

There are no ways for users to easily interact and collaborate with the creators/brands on Amazon.

Creators/Brands are not able to promote transparency and clarity with their customers on their brand pages.

Amazon is not capitalizing on Gen Z's current wants and needs. Nor are they showcasing items currently popular on social media.

Amazon is not cultivating or promoting Gen Z's talents on the website.
Solutions to the Problems
Declutter and redesign Amazon's interface so that it's more minimalist in design and customizable for the user.

Implement more visual representation of diversity on the website.

Create an area where it is easy for users to interact and collaborate with creators/brands on Amazon.

Create an area where creators/brands can transparently promote themselves and their products to create more trust and connect with customers. Therefore, creating an area where positive relationships between consumers and creators are made.

Capitalize on Gen Z's current wants, needs, and showcase items currently popular on social media.

Cultivate/Promote Gen Z's talents on the website.
Web Pages I'm Redesigning and Why
Based on the information above, I decided that the best web pages on Amazon to redesign would be the home page, product page, and the creator/brand page. These are the pages that my user type frequents the most and that I felt I could best redesign for their current wants and needs.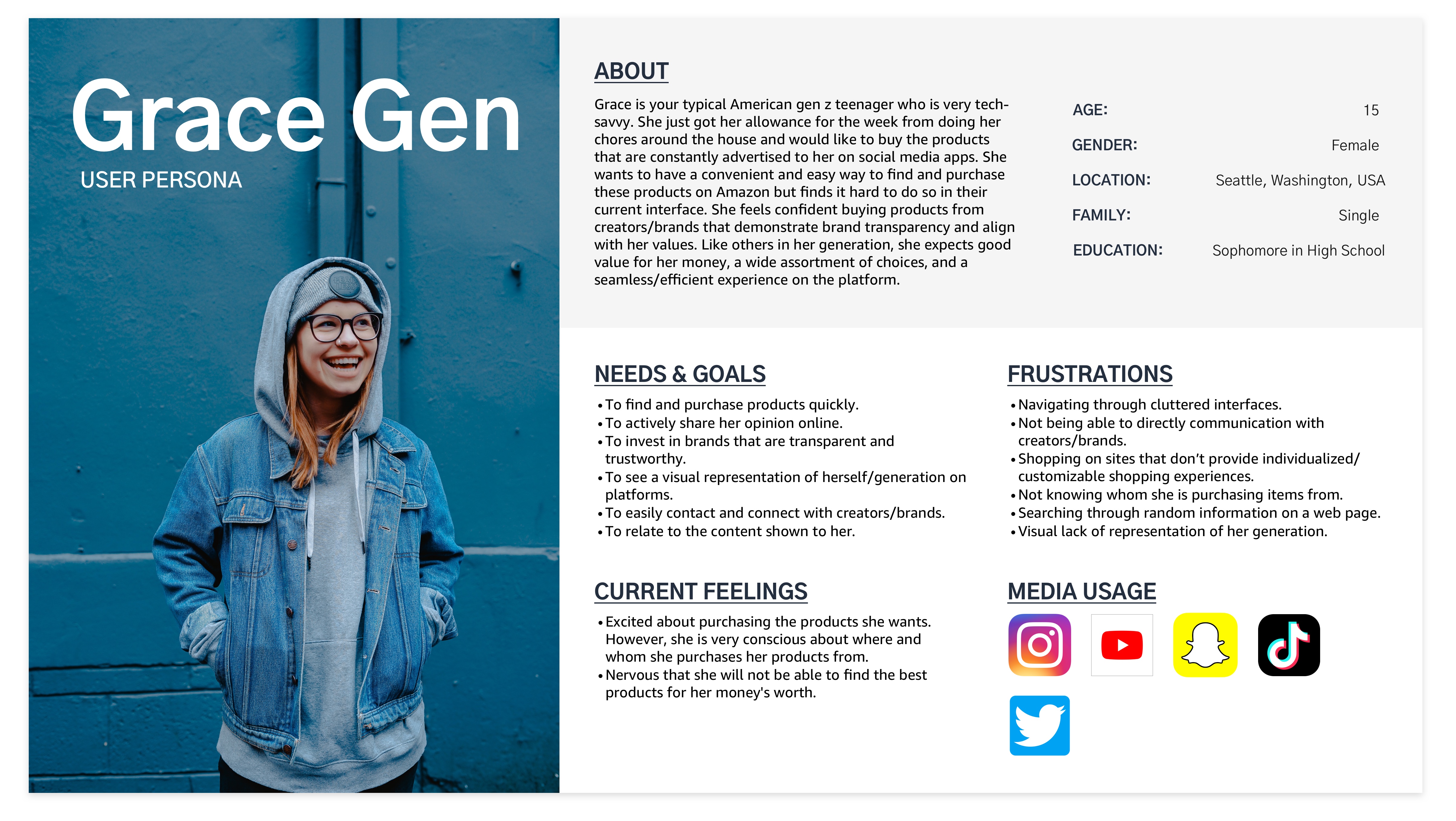 User Persona
Based on the research I performed during the discovery phase, I created a persona. I referred back to this persona throughout the entire redesign process.
Took Into Account:
Amazon's Market Segmentation tactic.

Empathizing with the user type.

The expectations, wants, and values of the user type.

The needs and overall goals for the user type.

Current frustrations the user type may be facing.

Which social media platforms Gen Z uses the most.
Brainstorming Visual Solutions to the Problems
During this phase of the project, I brainstormed visual solutions to the problems I found with Amazon's interface. Here are the solutions I came up with and later implemented in my web page redesigns.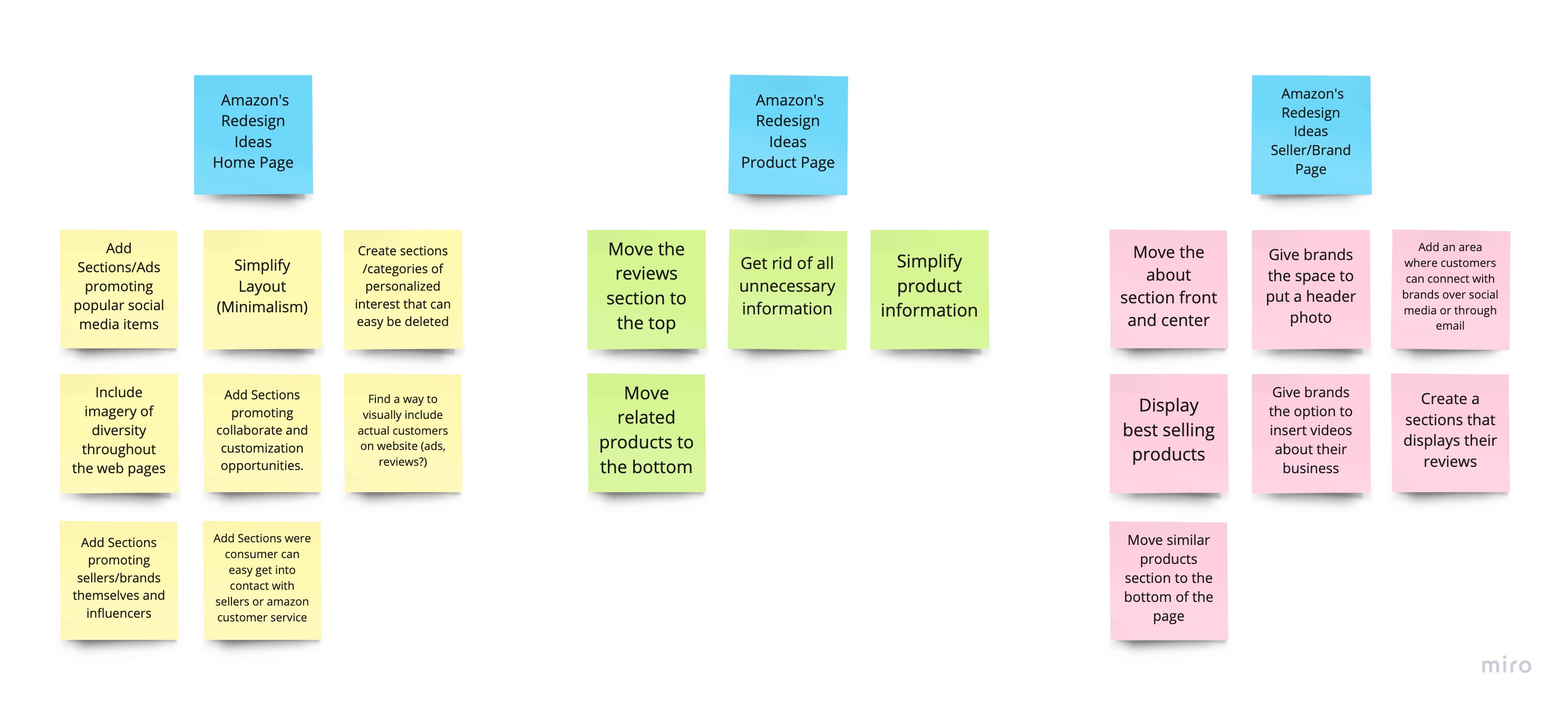 Wireframe Sketches
I first began by drawing out my ideas on paper with a pencil. I did this to conceptualizes my initial visual ideas quickly. I came up with a couple of different layouts for each web page that I could choose but overall decided to move forward with these three redesign sketches of each web page. I also wrote down the content ideas I wanted to implement in each section. These notes would later help when I decided to create the high-fidelity prototypes.

Low-Fidelity Wireframes
From there, I went into Sketch and created the low-fidelity wireframes of all three web pages based on the wireframe sketches I made earlier. I did have to change the layout a little bit on each page due to spacing issues. However, overall, everything was relatively laid out the same as in the initial sketches I created.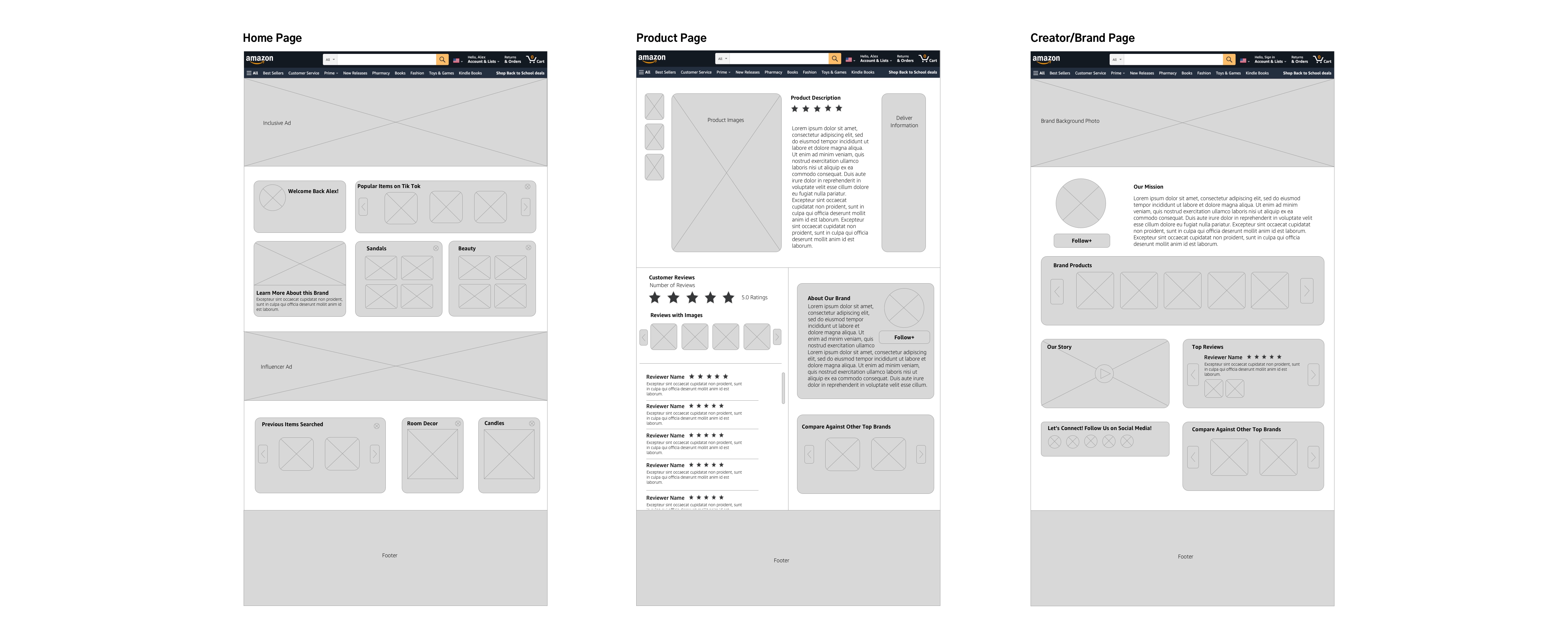 User Testing
Overview
Before moving forward with my final designs, I did a round of user testing to reveal possible design problems. Six American teenagers (13-17 y.o.) from urban areas of St.Louis agreed to take part in my user testing session. During the session, I laid out my low-fidelity wireframes and a computer. The computer had three links opened to Amazon's current interfaces for their home, product, and creator/brand web pages. One by one, I switched tabs on the computer and laid out the corresponding redesigns I made.
My overall goal was to determine which interface design the teenagers preferred and why. What did they like? What did they dislike? Any and all initial reactions, feelings, likes, dislikes, confusions, recommendations, etc. were written down and later referred back to when I created my final designs.
UX Questions Asked (Examples)
What is your current relationship with Amazon?

How often do you purchase products from Amazon?

Do you find Amazon's interface easy to navigate?

Do you usually find what you're looking for quickly?

What sections on the website do you look at the most before purchasing a product?

Are visual representation and brand transparency important to you when purchasing items from Amazon?

What expectations do you have when purchasing products off e-commerce websites?
User Testing Feedback
From the test, I was able to obtain important user insight. Which corresponded with the previous user research I performed in the discovery phase. Each user expressed that although they liked using Amazon, they wouldn't mind changes made to the interface to appeal to and complement their generation.
Overall Consensus
I asked users to compare Amazon's current interface to my redesigned versions and, here is the overall consensus I got back from the users.
Less is more!

Customization! Customization!

Wants to find what they are looking for quickly.

Visual representation matters! More likely to support and purchase from companies that align with their values.

Brand transparency and having a direct line of communication with a creator/brand on Amazon are crucial.

More likely to invest in products that are currently popular on social media or that influencers promote.

An overflow of information is unattractive.
Interface Problem/Changes
Here are the following layout changes I will be making to my redesign based off the users feedback and the outcomes of the user testing.
Remove personal information section on home page.

Give the interface more breathing room and make sure everything is proportionate.

Keep the creator/brand page just about the brand itself.

Add a "Collaborate with Us" section to the creator/brand page.
High-Fidelity Prototypes
Once I took into account all the feedback I was given, I then went on to create the final High-Fidelity Prototype in Sketch.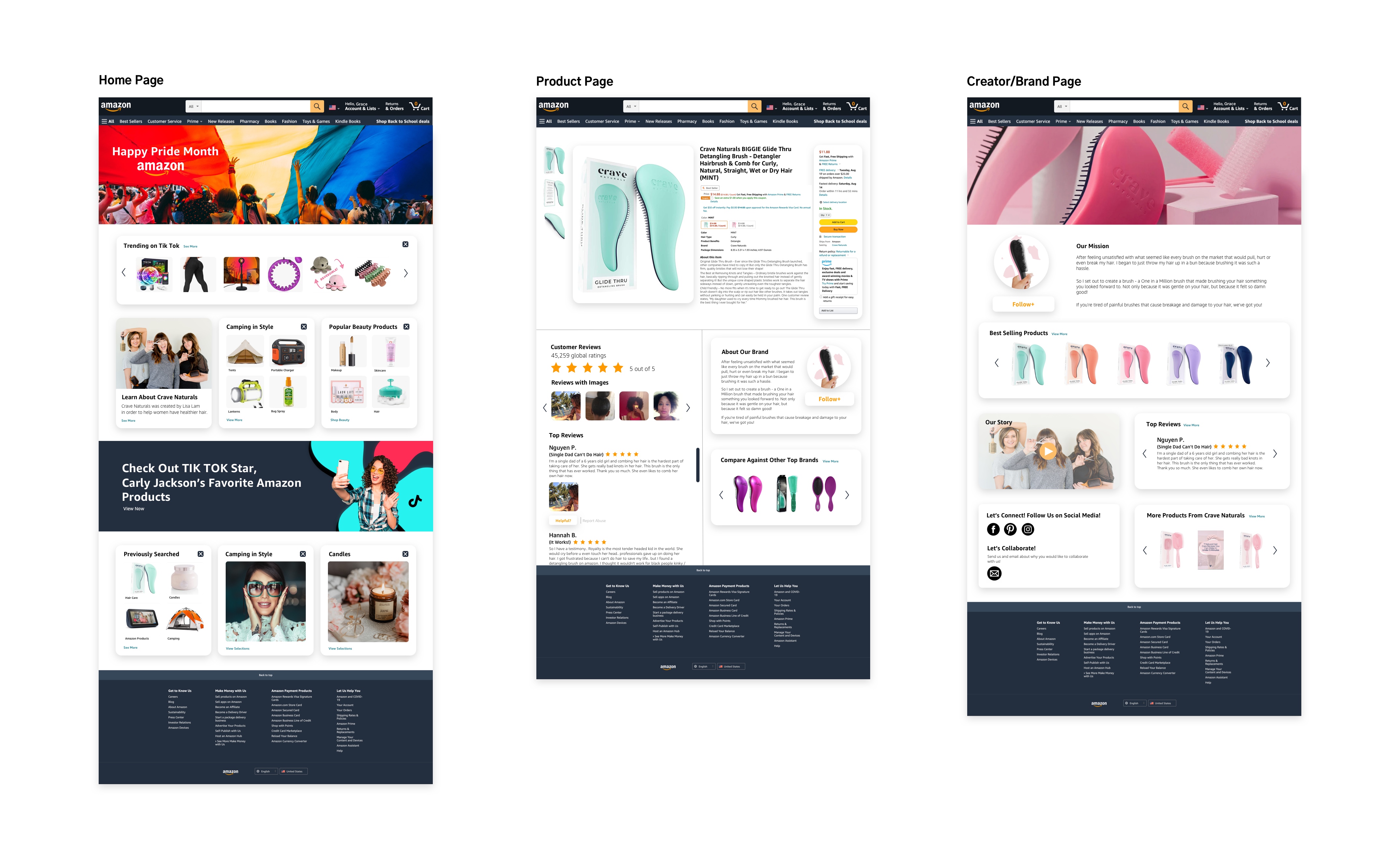 Before & After Comparisons
Here are side-by-side comparisons of Amazon's current user interfaces compared to my redesigned versions.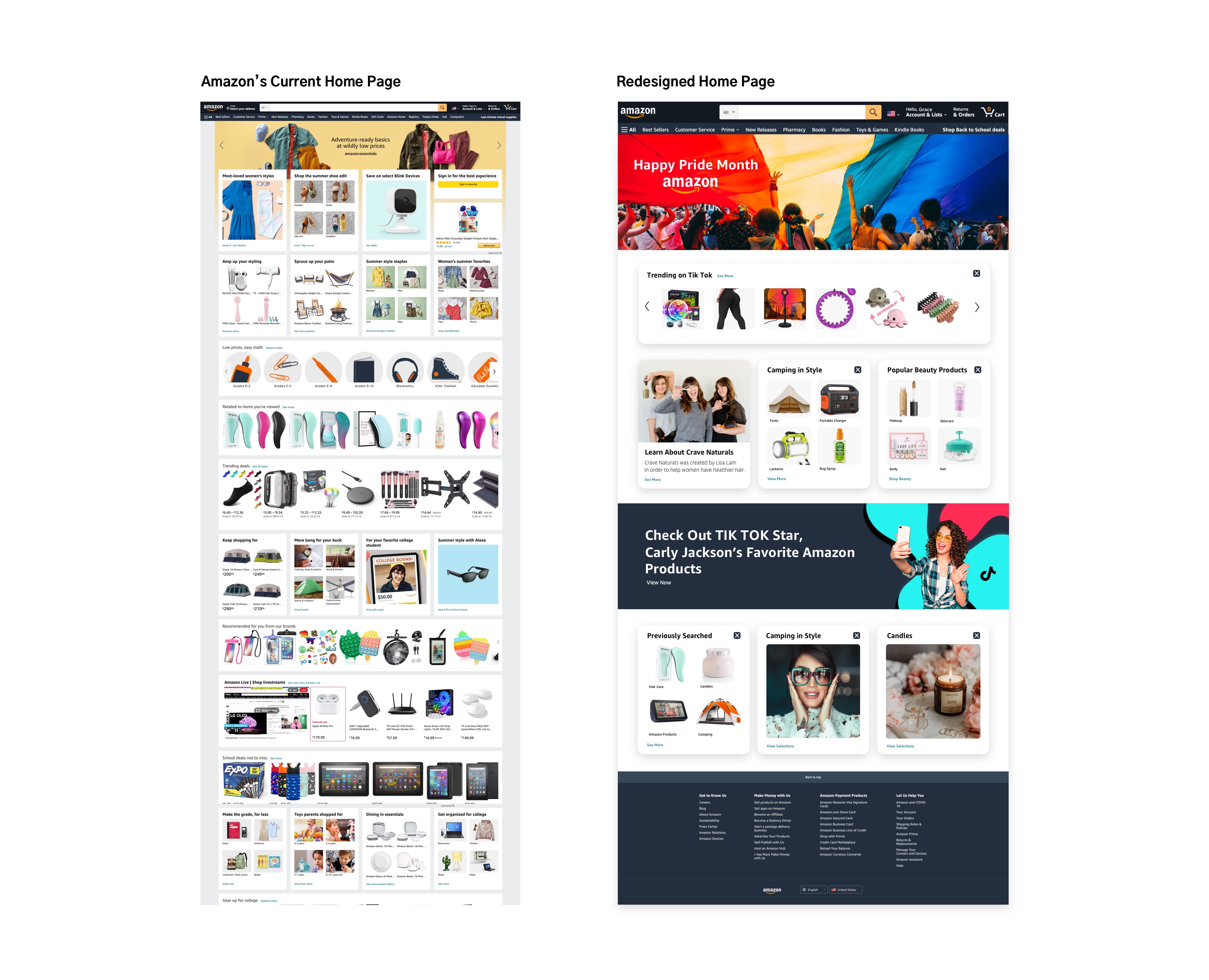 Home Page
Redesigned Interface Elements:
I simplified the entire interface layout. Unlike Amazon's interface, my redesigned version is more minimalistic. I limited the number of categories and products so that the interface would look less cluttered.

I gave users the option to delete categories that did not pique their interest. In return, a new section would replace it.

I added a banner that shows that Amazon supports diversity and inclusion. I added an ad that promoted a famous influencer and products that they buy on amazon.

I created a section that invites users to learn more about the creators/brands they are or will potentially purchase products from.

I advertised products currently popular on social media apps that amazon sells.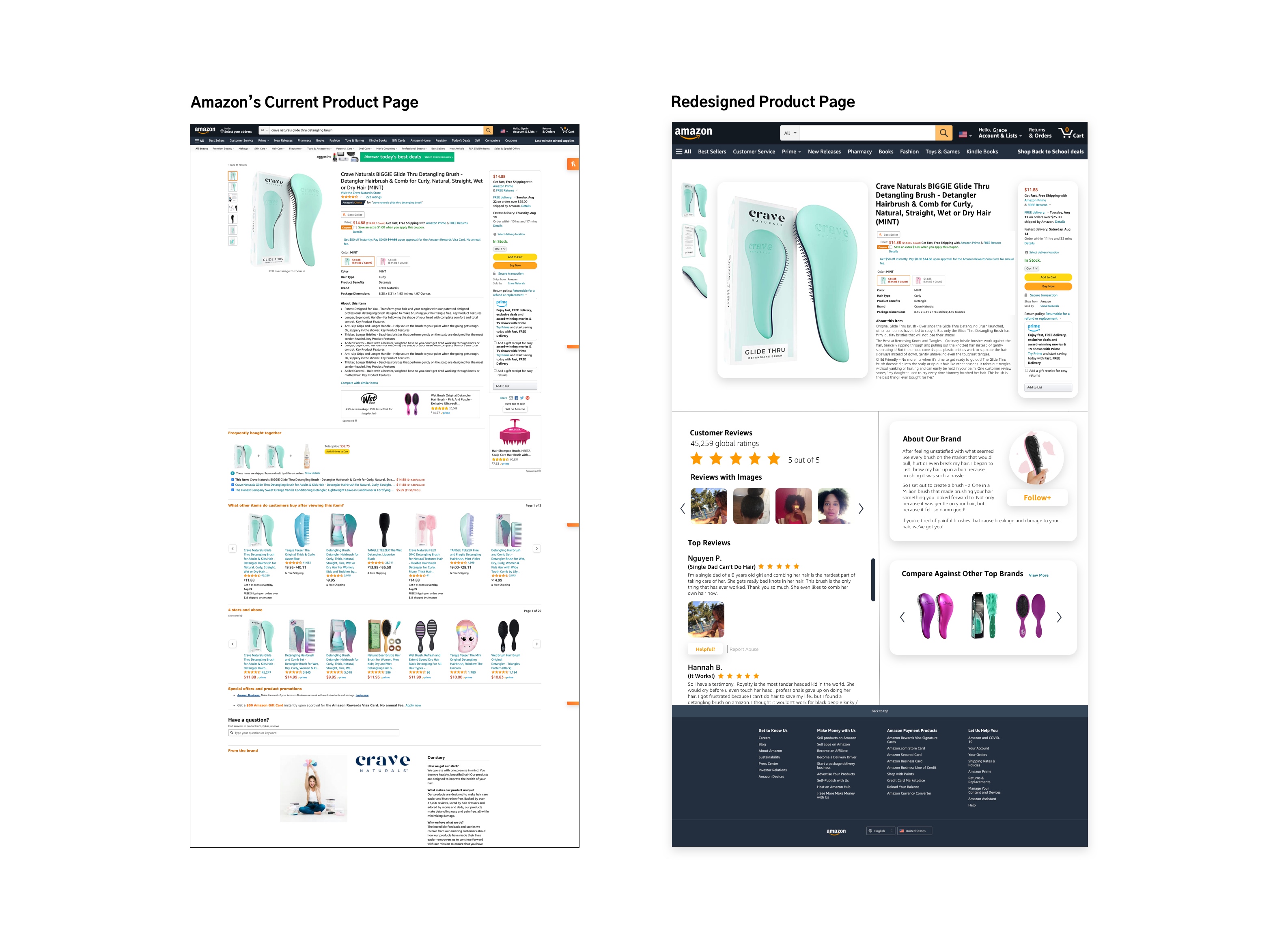 Product Page
Redesigned Interface Elements:
Moved the review section to the top.

Limited the amount of similar products shown to declutter the interface.

Created a smaller about section that links to the creators/brands main page.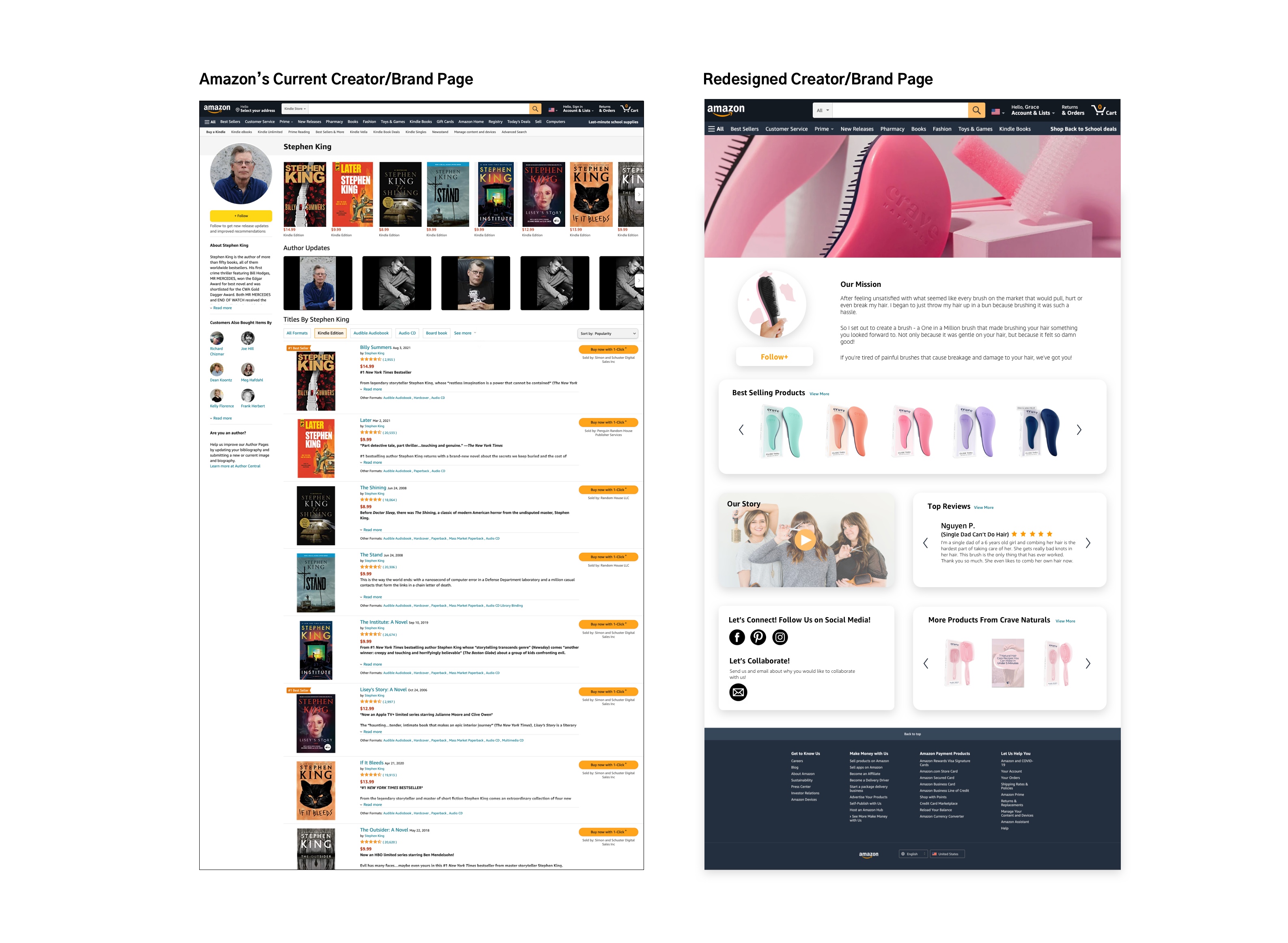 Creator/Brand Page
Redesigned Interface Elements:
I moved the about section front and center so that it's the first thing the user sees.

Listed products in a more organized way.

Created a video section where creators/brands could visually show their company stories if they chose to.

Created a section where users could easily connect, contact, or collaborate with creators/brands.

Added a top reviews section which will help further convince users to purchase from the creator/brand.
Final Thoughts & Takeaway
I enjoyed completing this web design challenge! It tested me mentally in ways that I never thought it would. It helped me grow as a UX designer and pushed me to think outside of the box.
Biggest Takeaways
When in doubt, always refer back to your user research.

Don't be afraid to explore different avenues when solving a problem.

Trust in the process!